Cash For Your Jewellery is owned and operated by Kanda Gold Ltd, a family retail jewellery business, located in Wolverhampton. We stock gold and silver coins, gold and silver bars, 22 carat, platinum and white gold jewellery. Located in our Wolverhampton based premises, we have developed to become the fastest growing online precious metals buyer in the West Midlands.
With over 35 years of combined experience in retail jewellery, jewellery wholesale, scrap metal purchasing and sales of bullion, we have gained the expertise to offer our customers with the highest price possible for their precious metals. Our friendly, professional and experienced team will help ensure the most value for your items is guaranteed.
Our company and our long-existing reputation are of high value and importance to us. We strive to continue our long-standing tradition of giving our customers with the best service possible and endeavour to make customer satisfaction our number one priority.
If you have any further inquiries, please do not hesitate to get in contact. You call us on 01902 873711 or email us info@cashforyourjewellery for any information or advice
In order to receive a price quotation, we need the weight and carat of your item. Find the correct carat of your scrap gold, silver, palladium or platinum. This can be done by interpreting the three-digit number on your hallmark. Click here for our hallmark guide. If there is no hallmark, just send it in! Our team of professional testers will determine the quality of your gold. Then simply weigh it.


Use our online calculator below to find out the value of your precious metals.
If you decide the estimated offer suits you, simply print and fill out the description form giving us the required details on the items you wish to sell. Alternatively, you may choose to apply online. If you have chosen to apply online we will accept them so long as you provide a covering letter with the following details: • A signed statement confirming that the items are indeed yours to sell. • Contact information including your name, address, email address and telephone number.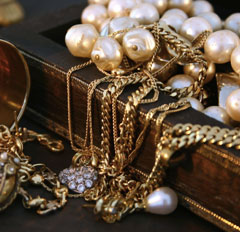 Post your precious metals
Post your scrap metals, ensuring the completed description form is enclosed too. We advise using Royal Mail Special Delivery. • Please ensure parcels are fully insured to ensure packages arrive safely as Cash for your jewellery is not responsible for any losses or damages in transit. • Please do not use adhesive tape or staples on the printed description form with your consignment.
Recieve your payment within 24 hours by Cash, Bank transfer (FPS) or Cheque.